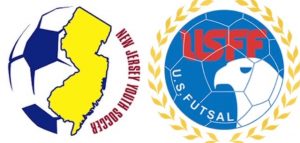 East Windsor, N.J. (Sept. 30, 2019) ― New Jersey Youth Soccer announced today that it has entered into a partnership with United States Futsal, the governing body for Futsal in the United States. United States Futsal (USFF) has been governing the sport of Futsal in the United States since 1981.
"Futsal is the official indoor soccer game of FIFA and is one of the most popular soccer variations throughout the world and NJ Youth Soccer is excited to offer this programming to our member," said Evelyn Gill, NJ Youth Soccer President.  "Futsal's unique rules and playing characteristics will complement the development of our players, and provide our membership with new opportunities that can easily be accessed as it requires little infrastructure."
Futsal (Five-a-Side Soccer) is "The Way the World Plays Indoor Soccer" and is the international form of indoor soccer approved by the Fédération Internationale de Football Association (FIFA). It is played on all continents of the world by more than 100 countries with 12 million players.  As USFF's exclusive representative in New Jersey, NJ Youth Soccer will be responsible for sanctioning Futsal leagues, tournament play, player and coach registration and the NJYS Futsal State Cup beginning on october 14, 2019.  NJYS Futsal State Champions will be crowned in youth age groups and will move on to USFF Regional and, if successful, the U.S. Futsal National Championship.  Additionally, the NJYS Coaching Education Department will offer clinics and courses throughout the year to help educate NJYS member coaches on the technical and tactical aspects of Futsal.
"We are delighted to partner with New Jersey Youth Soccer," said Alex Para, USFF President and CEO. "This will unify many of the Futsal Leagues that already exists in New Jersey under the banner of New Jersey Youth Soccer / Futsal. This agreement furthers our goal to partner with all State Soccer Associations, and it also now makes New Jersey Youth Soccer the State Governing Body of all disciplines of FIFA (Soccer, Futsal, and Beach Soccer) to benefit all players."
NJ Youth Soccer will communicate details about player and coach registration for futsal directly to member clubs.  For related questions email communications@njyouthsoccer.com.
About NJ Youth Soccer Association
New Jersey Youth Soccer, a 501(c) (3) organization affiliated with U.S. Youth Soccer and the U.S. Soccer Federation, is comprised of more than 100,000 players from 5 to 19-years-old; 40,000+ coaches; and thousands of volunteers. Members collectively support the sport of soccer through training, practice, competition and the spirit of good sportsmanship. The association features recreational, travel soccer programs at multiple skill levels; Olympic Development Programs (ODP); tournaments including the National Championship series; coach and referee training and certification programs; and TOPSoccer, a program for children with special needs.
About U.S. Futsal
United States FUTSAL (USFF) has governed the sport of Futsal in the United States since 1981 at the Junior, Adult, and Professional level.  U.S. Futsal, was first affiliated to U.S. Soccer in 1988; it governs futsal league play, with leagues designed for Junior as well as adult players of all ages. U.S. Futsal conducts eight Regional Championships throughout the United States, culminating with the U.S. Futsal National Championship, the oldest, biggest and most prestigious Futsal Competitions in the United States.  Futsal is "the way the world plays indoor soccer" and is the international form of indoor soccer approved by the Fédération Internationale de Football Association (FIFA).  It is played on all the continents of the world in over 100 countries by more than 12 million players. Futsal is played on a basketball-size court.  It can be played on a variety of surfaces. Without the use of walls, futsal is a great skill-developer, demanding quick reflexes, fast thinking, and pin-point passing.  It is an exciting game for children and adults. Great soccer superstars such as Pele, Zico, Maradona, Ronaldo and Messi grew up playing the game and credit Futsal with developing their skills.  Futsal is played with a special low bounce ball, requiring players to use their skills, rather than the ball's bounce, to propel it.  For more information, visit futsal.com or contact info@futsal.com