The Pacific Rim Futsal Cup 2021 will take place in Honolulu, Hawaii from December 3rd to December 5th.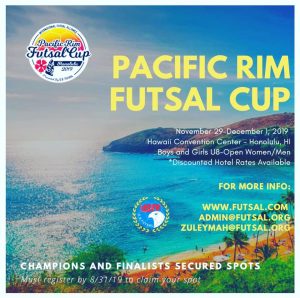 U.S. Futsal will host the event at the Hawaii Convention Center.
The tournament will see several National Men's and Women's teams, along with junior national, state and regional teams come together.
Applications must be received by Oct 1st 2021.
The tournament entry fee is US$600 and a team must stay at the designated Ala Moana Hotel to participate.
For Accommodation at the Ala Moana Click here.
For more information please contact info@futsal.com or call 510-836-8733