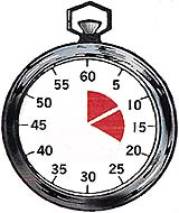 eriods
The gamelasts two equal periods of 20 minutes. The time-keeping undertaken by a timekeeper whose duties are defined in Law VII. The duration of either half be prolonged to enable a penalty kick to be taken.
---

Time-out
The teams entitled to request a time-out of one minute in each half whereby the following principles apply:
·   the team coaches are authorised to request the timekeeper for time-out of one minute
·   a time of one minutebe requested at any time but only permitted when possession of the 
·   the timekeeper indicate permission for a time-out when the ball is out of play using a whistle or other acoustic signal distinct from the ones used by the referees.
·    when time-out is granted the players must remain on the playing court. If they wish to receive instructions from a team official, this may only be done at the touchline at the level of the team  bench. The official issuing the instructions may not enter the playing court.
·   a team which does not request a time-out in the first half of the game, is still only entitled to one time-out in the second half.
timenterval
The half-time interval not exceed 1 minutes. 
Decisions 

Decision 1 
·    If a timekeeper is not available, the coach makes his request for a time-out to the referee.  

Decision 2

·   If the rules of the competition stipulate that extra time be played at the end of normal time, there is no time-out during extra time.