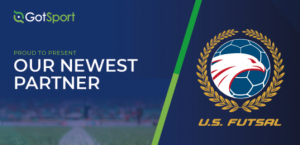 GotSport and US Futsal have agreed a five-year agreement registration and match scheduling partnership. The partnership means US Futsal members will now have a single integrated platform for their registrations and competitions schedules. "It gives me great pleasure to announce a new five-year agreement with GotSport", said US Futsal President and CEO Alex Para.
"GotSport is the leading provider of soccer/futsal registration software in the United States. With this software we will be able to register players in all States, as well as run our yearly State, Regional, National and International Championships. We look forward to growing our strong partnership in developing Futsal in the United States" , added Para.
GotSport president and CEO, Gavin Owen-Thomas pointed out that the majority of the 11-a-side soccer clubs and competitions already utilize GotSport software, so US Futsal members who like to supplement their indoor soccer with outdoors soccer will have the benefit of using their same GotSport accounts to register for outdoor soccer teams and competitions.
"We're excited about this new partnership and are looking forward to building a strong and prosperous relationship with the US Futsal Federation. This partnership is fantastic news for players and coaches across the country, as they can now use a single platform to participate in both indoor and outdoor soccer events and competitions,"
About GotSoccer:
GotSoccer is based in Jacksonville Beach, Florida and provides management and scheduling software to 34 of the USYS state associations. Their products include the GotSport player registration platform and the league and tournament module.  GotPro is used to schedule over 60 of the top leagues in the world including premier leagues in Europe, Asia, Australia and South America. GotPro's Top US clients include the NBA, MLB, MLS, USL and Disney. Other platforms used globally include GotTicketing and GotAnalyics.
About United States Futsal
United States FUTSAL has governed the sport of Futsal since it introduced the game into the United States in 1981 at the Youth, Adult, and Professional level. U.S. Futsal, become affiliated to U.S. Soccer in 1988; it governs futsal league play, with leagues designed for youth as well as adult players of all ages. U.S. Futsal conducts eight Regional Championships throughout the United States, culminating with the U.S. Futsal National Championship, the oldest, biggest and most prestigious Futsal Competition in the United States. U.S. Futsal conducts and participates in international competitions including IFA World Cup Championships. For more information, visit futsal.org, usfutsal.org and youthfutsal.com or contact info@futsal.com
For more information on GotSoccer, click here or email william@gotsoccer.com