The 24th U.S. Futsal Northeast Regional Championship Concludes After more than 3 days of Intense Competition!
Atlantic City, New Jersey — The 24th. U.S. Futsal Northeast Regional Championship concluded Monday, February 17th after four days of intense and exciting competition. With 380 teams competing on 13 courts under one roof, this makes this the biggest Futsal Tournament in the United States if not the world.  "This is great news", said Alex Para, President & CEO of U.S. Futsal, "because it shows how much Futsal is growing in the Northeast Region and how competitive Futsal has become". With the growth of Futsal accelerating so rapidly over the last ten years, so has this competition. Teams from nine states from the Northeast competed this year. The Men's Open competition was won by Brazuca F.C. from Pennsylvania -East, who played Safira F.C. from Massachusetts, who was last year's Regional Championship winner. In the Women's Open category, PAE Brazuca in a thriller beat SUSA Futsal Academy from (NYE)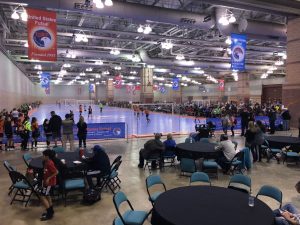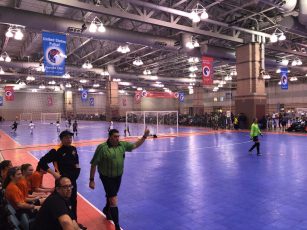 To host the 2020 U.S. Futsal Northeast Regional Championship required 13 regulation courts and 88  referees over 4 days.
This year marked the third time that the Northeast Regional Championship has 'been held in Atlantic City. All the games, in every division over the course of this event, were well played and attended by more than 12,000 participants and spectators. When the Open Men played, there was standing room only.
Eighty eight referees, from various locations across the country, were invited to participate in this tournament. U.S. Futsal congratulates all the teams that participated in the 2020 U.S. Futsal Northeast Regional Championhip for their hard work, dedication and "fair play" throughout the competition.
2020
U.S. FUTSAL
NORTHEAST REGIONAL CHAMPIONSHIP RESULTS
CATEGORY
GOLD MEDAL
SILVER MEDAL

U-9 Boys

SPORTING MARYLAND (MD)

SUDAKOS F.C. (VA)

U-9 Boys

SOLE UNION (PAE)

GINGA FUTSAL (MA)

U-10 Boys

SOLE F.C. (PAE)

MISFITS (MD)

U-11 Boys

SOLE F.C. (PAE)

MISFITS (MD)

U-12 Boys

SILVERBACK de CORDOBA (PAE)

FCU  (MA)

U-13 Boys

GINGA BOYS  (MA)

PTS CUSTOM  (VA)

U-14 Boys

AFA ATHLETICO  (PAE)

SAFIRA F.C.  (MA)

U-15 Boys

BRAZUCA FA (PAE)

SAFIRA F.C.  (MA)

U-16 Boys

RANGERS READY F.C. (VA)

HOTSPURSL  (PAE)

U-17 MEN

ALIANZA  (NYE)

BARCELONA F.C.  (MD)

U-18 MEN

ALEXANDRIA  (VA)

BRAUSA (PAE)

U-19

 U-19 MEN

FC COPA ELITE  (NJ)

BRAZUCA F. C. (PAE)

OPEN MEN

BRAZUCA F. C. (PAE)

SAFIRA F. C. (MA)

U-9 GIRLS

LVU 09  (PAE)

SJEB RUSH (NJ)

U-10 GIRLS

SUSA FUTSAL ACADEMY

ASSASSINS  F.C. (PAW)

U-11 GIRLS

SUSA FUTSAL ACADEMY

PFA (NJ)

U-12 GIRLS

SUSA FUTSAL ACADEMY

BC FUTSAL SLAMMERS (NJ)

U-13 GIRLS

YESA EAT (NYE)

SAFIRA F.C. (MD)

U-14 GIRLS

NJ FIRE (NJ)

PFA (NJ)

U-15 GIRLS

FC FLAIR GIRLS

PSC COPA (NJ)

U-16 GIRLS

SAFIRA FUTSAL (MA)

SUSA FUTSAL ACADEMY (NYE)

U-17 GIRLS

BC FUTSAL




SLAMMERS (NYE)

ALEXANDRIA FUTSAL (VA)

U-18


WOMEN

MIA SAN FUTSAL

SAMBA BLACK (CT)

U-19


WOMEN

MIA SAN FUTSAL

SAMBA BLACK (CT)

OPEN WOMEN

BRAZUCA (PAE)

SUSA FUTSAL (NYE)