The U.S. Futsal moved its 37th National Championship to Las Vegas and the Westgate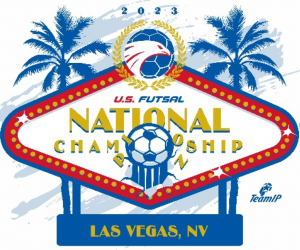 Event center was on fire with futsal! The National Championship, which was held July 14-16 at the Westgate Resort and Casino Event and Pavilion hosted 225 youth and adult men and women teams ranging from U8 – Over 35.
Competitors from 23 state associations were present and ranged from Massachusetts to California and from South Texas to Michigan.
Games running continuously for up to 14 hours a day allowed for an amazing show of futsal talent. True to U.S. Futsal's reputation the energy in the Event Center and Pavilion Hall was an intense, enthusiastic and magnetic vibe with plenty of loud and proud futsal cheering. The thousands of parents, coaches, players and spectators brought an amazing atmosphere of excitement for all in attendance.
We want to thank all the parents, coaches, players, referees, time-keepers and staff and volunteer for making our event so successful. We invite all participates of the 37th U.S. Futsal National Championship to apply for the various U.S. Futsal Regional Championships next year.  Winners and finalists are guaranteed a spot if they apply, but all participants will be allowed to apply. Registration opens October 1.  For more information, please go to https://futsalnationalchampionship.com or write info@futsal.com
Looking forward to seeing you all back in 2023/24
U.S. FUTSAL NATIONAL CHAMPIONSHIP FINAL STANDINGS
Bracket
Gold Medal
Finals
Score
Silver Medal
Finals
Score
Bronze Medal
Over -35 Men
Colorado Futsal Academy
4
Top Notch O35
3
Di Bufala
Open Men
Sporting Maryland F.C.
5
Utah Elite FC
4
Safira Pro
Open Women
Di Bufala F.C.
6
Legends F.C.
4
Victory F.C.
U8B
F.C. Flair
6
LVSA
0
Toque
U8G
RSMG Select
4
5280 Futsal
3
Lady Legends F.C.
U9B
Ginga F.C.
6
Diablos F.C.
1
Legends Respect
U9G
Toque
9
5280 Futsal FC
3
D7 Futsal
U10B
Bay Area Roots Futsal
4
Los Amigos
3
F.C. Flair
U10G
Toque FC
5
RSMG Select
3
GSF Gold
U11B
Toque FC
7
RCF Select FC
4
F.C. Flair
U11G
So Cal Blues
5
Toque
3
F.C. Flair
U12B
In10sity Futsal
7
Ginga Fc
4
F.C. Flair Black
U12G
Virginia Futsal Elite
4
Top Notch Futsal
2
619 Futsal Academy
U13B
FC Flair
6
GSK Blue
3
Meg City Futsal
U14B
Ginga  FC
7
Safira FC
4
RCF Select
U14G
RCF Select
6
Houston Futsal
1
South Futsal FC
U15B
Ginga Futsal Club
4
Chicago Street FC
1
RCF Select
U16B
F.C. Flair
4
South Futsal.
1
Diablos
U17B
Bulldogs FC
4
RCF Select
1
RSOLF
U19B
FSS X Brazil CT
4
Futsal & Street Soccer
1
Jose Pharmacy Knowens
U19G
Legends Futsal Cagers
3
RCF Select
2
Lady Futsal Escola
UNITED STATES FUTSAL, has been Governing the sport of Futsal since 1981, and first affiliated with United States Soccer in 1988.